Visar samtliga inlägg taggade med galahad update.
Since the most recent Galahad launched for 4 weeks, Albion Online has attracted over 212,815 Founders to play the game. It brings incredibly 2,804,864 hours played. Plus, Albion Online plan to release a new world map for Galahad Update today! This update includes improved PvE and an abundance of other new content.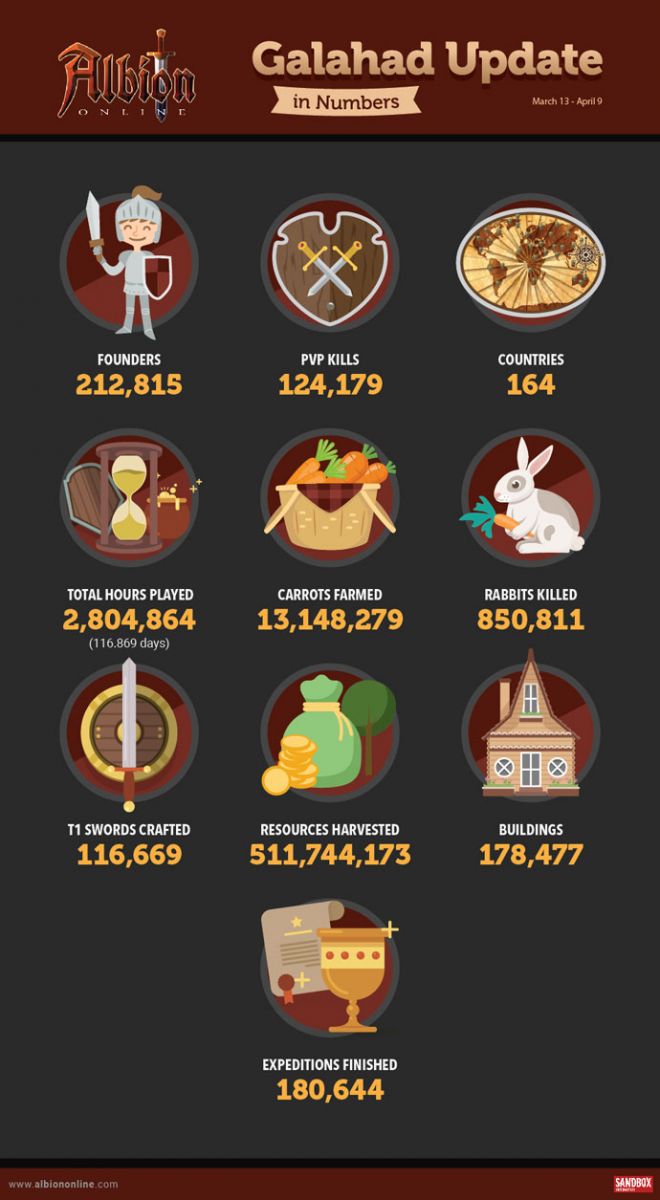 Check the datas below:
212,815 - Founders

124,179 - PVP Kills

164 - Countries

2,804,864 - Total Hours Played

13,148,279 - Carrots Farmed

850,811 - Rabbits Killed

116,669 - T1 Swords Crafted

511,744,173 - Resources Harvested

178,477 - Buildings

180,644 - Expeditions Finished
Have you been attracted by the new content in Albion Online? Be a Founders and begin your adventure in Galahad! For more information, do not hesitate to visit the dedicated website or www.upalbion.com where offers Albion Online gold that can help you fully enjoy the game.
Publicerat klockan
08:23, den 14 april 2017
Albion Online is a cross-platform MMO, developed by Sandbox Interactive. It features farming, player-driven economy, player-built cities, monsters, combat, exploration, no classes and more awesomeness. The game is preparing for its worldwide launch on July 17, 2017, and has slowly been updating the game world through tests, betas, and feedback from players. Now, the biggest content update of them all is about to arrive in the form of Galahad. Galahad, in many ways, is an overhaul of the MMORPG, from new explorable areas to a brand new user interface.
The team behind Albion Online is not holding back with this update, going as far as shutting down other servers to ensure that the process goes smoothly and functions well enough so that players can explore the new content at their own pace and without many problems.
This update brings many new areas to explore, including ones that have been reworked from the ground up, such as the Outlands. The team notes that at the beginning of the Final Beta, the Outlands were a place they weren't happy with design-wise, so they buckled down, reworked it, and turned it into a PVP and Guild hub. Then, there's the brand new Royal Continent. At first, there were just two Royal Cities, but now, it's a full blown land that has cities based on biomes instead of being randomly placed.
Which brings us to the massive upgrades brought by this update. As mentioned, the cities now look like they belong in the environments they're a part of, thus making them more realistic. Also, the map function has been upgraded to show more detail, have the ability to be zoomed in, and even see secret passages.
Add to that new monsters to fight, such as Guardians, new PVE missions called Expeditions, Home Bases and Altars, new gear, new balances to combat, and more, and you can see why the Albion Online team is excited about this update.
According to the official site, Legendary Founders will be able to explore Galahad on March 13, Epic Founders on March 14 and Veteran Founders on March 15. More Albion Online news focus on www.upalbion.com where sells cheap albion online gold.
Publicerat klockan
07:58, den 14 mars 2017